Plan a sweet getaway
Enjoy a camper cabin getaway for Valentine's Day!
You love the outdoors and you love your sweetie. Why not combine the two? Valentine's Day falls on a Thursday this year, which makes it perfect for a romantic extended weekend away from it all. We'll provide the starry skies, silence, and snow-laden pines; the rest is up to you.
Most camper cabins are still available for Thursday, February 14, and there are still a few available at Lake Shetek State Park and Big Bog State Recreation Area for the entire weekend (through Sunday, February 17). Don't wait until they're all gone - book your camper cabin today for a romantic wooded getaway in February!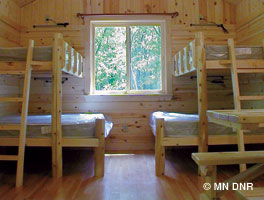 The one-room log cabins are cozy and rustic. All of the winter camper cabins are heated, and many have electricity. Learn more.
You'll experience the romance of cooking over an outdoor fire, and during the day you can enjoy skiing and snowshoeing right from your front door. (Lots of parks even have skis and snowshoes available to rent!)
Psst...it's not just for couples
Not celebrating Valentine's Day? A camper cabin is the place for you, too! Whether you're on a romantic hideaway or just plain hiding away, camper cabins really are the perfect place to escape from the buzz and traffic of the city and the constant call of TV and video games.