| | |
| --- | --- |
| Lake name: Vermilion | County: St. Louis |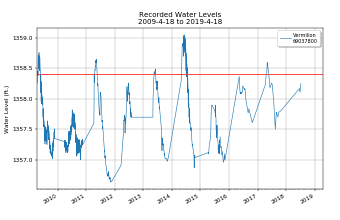 Last 10 years of data, click to enlarge.
Water Level Data
Period of record: 10/03/1950 to 07/09/2018
# of readings: 15527
Highest recorded: 1359.32 ft (05/17/2008)
Highest known: 1359.94 ft (06/06/1913)
Lowest recorded: 1356.07 ft (11/16/1976)
Recorded range: 3.25 ft
Last reading: 1358.25 ft (07/09/2018)
Ordinary High Water Level (OHW) elevation: 1358.4 ft
Datum: NGVD 29 (ft)
Download lake level data as: [dBase] [ASCII] (If you have trouble try right clicking on the appropriate link and choosing the "Save ... As" option.)
Benchmarks
Elevation: 1363.93 ft
Datum: NGVD 29 (ft)
Date Set: 05/28/2009
Location: T62R16S17
Description: Found 2018 for use only with prior permission from landowner. NW corner of concrete patio on lakeward side of private residence, 3049 Sunset Road, Tower, on SW side of lake.
Elevation: 1362.6 ft
Datum: NGVD 29 (ft)
Date Set: 07/08/2008
Location: T62R16S34
Description: On the south-southwest side of the wetland connection, at Lot 9 of the Waters of Vermilion P.U.D: high point on a 4.3' x 3.8' x 2' pink and grey boulder, actual high point is 7.9' E-NE of the NE corner of the home on Lot 9 (a magic marker "x" was placed on the high point and consultant Dave Chmielewski is going to inscribe a permanent "x" at the same location).
Elevation: 1377.42 ft
Datum: NGVD 29 (ft)
Date Set: 11/19/2012
Location: T61R16S3
Description: Top left side on stop logs of Pike River dam. [Top right side on stop logs = 1377.34.]
Elevation: 1378.26 ft
Datum: NGVD 29 (ft)
Date Set: 12/23/2003
Location: T61R16S3
Description: Found 2012. Unstamped brass disc in SE abutment of bridge #69601 on Co Rd 77 over Pike River.