| | |
| --- | --- |
| Lake name: Markley | County: Scott |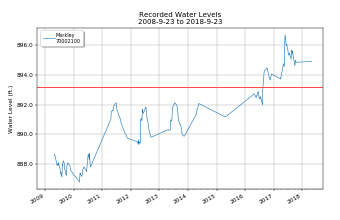 Last 10 years of data, click to enlarge.
Water Level Data
Period of record: 12/01/1994 to 05/02/2018
# of readings: 349
Highest recorded: 896.7 ft (05/26/2017)
Highest known: 896.1 ft
Lowest recorded: 886.8 ft (03/15/2010)
Recorded range: 9.9 ft
Last reading: 894.91 ft (05/02/2018)
Ordinary High Water Level (OHW) elevation: 893.2 ft
Datum: NGVD 29 (ft)
Download lake level data as: [dBase] [ASCII] (If you have trouble try right clicking on the appropriate link and choosing the "Save ... As" option.)
Benchmarks
Elevation: 910.54 ft
Datum: NGVD 29 (ft)
Date Set: 12/01/1994
Location: T114R22S1
Description: Double 60d spikes 1.2' above ground in the north side of a power pole in the center of the parking lot at the city maintenance garages (nail has ribbon on it); at SW end of lake, at end of farthest west road going north off frontage road Credit River Rd S and past turn for Industrial Circle SE, off Shady Beach Trail NE, Prior Lake.
Elevation: 897.17 ft
Datum: NGVD 29 (ft)
Date Set: 04/28/2009
Location: T114R21S6
Description: Found 2018. 3/8" x 8" spike, 0.4' abv grd, North side of power pole, near buried cable box, D 552 11, end of Whitewood Ave cul-de-sac, near 16506 Whitewood Ave, Prior Lake. [Note: Add 0.08' to NGVD 1929 elevation to equate to NAVD 88 datum as per GPS survey 1/14/16.]