I realized early in my life I need to get outside and roam the countryside every day. When I first witnessed someone riding a fat-tired bike on a sunny winter morning in 2008, I recognized instantly it might be another tool to do just that. It was easy to notice the bicycle with 4-inch-wide wheels, nearly twice as wide as those on a typical mountain bike. The rider was pedaling effortlessly across fresh snow on Lake of the Isles in Minneapolis.
Article continues below sidebar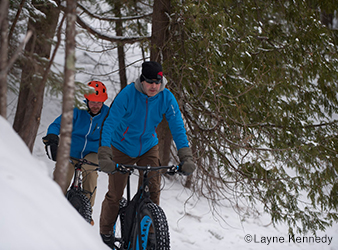 Groomed Single-Track Trails
Twin Cities metro area: Minnesota Off Road Cycling, a mountain-biking advocacy group, grooms trails in two regional parks—Lebanon Hills Regional Park and Elm Creek Park Reserve. Both are premier winter destinations.
Duluth: A group called Cyclists of Gitchee Gumee Shores grooms single-track trails. Many frozen streams in the city also serve as trails and are ridden extensively.
Crosby: This 18-mile-long gem, jointly groomed by the DNR and Cuyuna Lakes Mountain Bike Club, is in Cuyuna Country State Recreation Area.
Learn more about fat-tire biking in Minnesota state parks and on state trails.
Inspired, I looked into the origin of these odd-looking "fat bikes." Fat biking on snow, I learned, evolved in Alaska in the 1980s, when cyclists seeking to bike in winter experimented with wide-tire designs. Other refinements followed, and in 2005 Minnesota brand Surly brought fat bikes to the mainstream with a model called the Pugsley.
Across the country, and especially in Minnesota, the number of fat bikes is skyrocketing as more folks try these versatile vehicles. I'm one of them.
For me, the bike has turned the area around Duluth into a fat-bike winter playground. I am able to travel in places that in summer I was previously not able to access. I look at frozen rivers as roads. The fact that so much terrain is frozen allows a huge range of creativity as to where you can travel on these bikes.
On the Hunt.
While I mainly ride my fat bike in the winter, my favorite activity on it has become hunting. On my camo-colored fat bike, I can reach wildlife management areas and other nonmotorized hunting spots near my house. Riding on a silent, scentless human-powered machine, I am able to cover more terrain efficiently and penetrate deeper into acreage than I could walk in a day. And I see more game because of my mobility.
What could be better than riding with the sun on your face through a painting of Minnesota's amazing fall colors while looking for tasty ruffed grouse? My hunting rig, made by another Minnesota bike brand, Cogburn, has a scabbard that I can safely carry my shotgun in while I ride. If I see a grouse, I gently pull the gun out of the scabbard, lay the bike down, and continue my pursuit. I also use the Cogburn for deer hunting with either bow or rifle.
Snow Pressure.
Riding a fat bike in winter does present special challenges. While a fat bike works well in soft conditions, it is powered only by your legs, which can use all the help they can get.
Fat-bike riders learn quickly that lowering tire pressure is one trick to deal with soft snow. The voluminous tires allow extremely low pressures—less than 5 pounds per square inch—that improve flotation on softer surfaces. The ride experience can be like a magic carpet, with very little noise and perfectly smooth glide.
However, even with low tire pressure, deep snow forces the intrepid biker to find packed surfaces. Any snow deeper than 3 inches makes me reach for my skis instead. Some of the best fat-bike years have been cold seasons when snow depths were minimal but ice cover was widespread and thick, allowing access to vast, frozen terrain easily traversed on studded tires.
Trails to Ride.
Fortunately, the Department of Natural Resources has come up with guidelines and options for riding fat bikes in some state parks and trails. Mostly, though, fat-bike riders are heading the way of summer off-road riders—toward purpose-built trails. Many riders prefer single-track trails. Generally about 36 inches wide and in the woods, a single track dances with the land's natural features, creating a more intimate and challenging experience.
Rides on these twisty trails can be comical, as people misjudge the width of the packed trail, fall, and explode into a cloud of powder in the softer trailside snow. Luckily, fat biking is a low-speed sport, so most crashes are slow-motion, low-impact. Given this zany riding experience, the fat-bike community tends to be whimsical, low key, and self-effacing. Laughing pervades fat-bike rides. Outings often conclude with knee slapping, lots of smiles, and clothes lacquered in good, clean snow.