Ensure ice is sufficiently thick
We recommend checking the ice every 150 feet and paying close attention to thickness guidelines. Don't drive a car or small truck unless there's a minimum of 8 inches of ice and a minimum of 12 inches if you're driving a medium-sized truck.
Stay safe, stay sober
Alcohol is a factor in more than 70 percent of snowmobile fatalities in Minnesota. Keep the alcohol on the shelf or in the refrigerator until after you're finished riding. Learn more about staying safe on a snowmobile.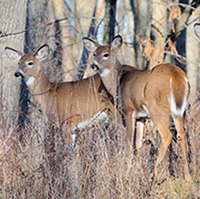 Join our deer committee
We are seeking members for a new deer advisory committee to provide input to us on deer management issues, effective deer policies and more. Apply now through Friday, Feb. 8.