Last September bass anglers from around the nation discovered what many Minnesotans have known for decades: Mille Lacs Lake has a healthy population of giant smallmouth bass. During the three-day 2016 Toyota Bassmaster Angler of the Year Championship, top competitors hauled in five-fish daily bags of trophy smallmouth with total weights exceeding 25 pounds.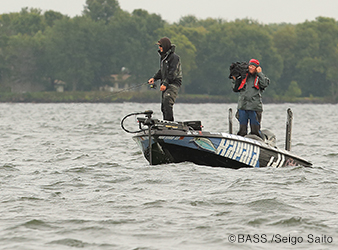 Pro angler Seth Feider of Bloomington took first place in the 2016 Toyota Bassmaster Angler of the Year Championship. The 15 smallmouth bass he weighed during the three-day tournament averaged more than 5 pounds each.
"There have never been this many big smallmouth caught in Bassmaster tournament history," said emcee Dave Mercer. "Nothing holds a candle to this." The tournament's success delivered an economic boost to communities around the 132,500-acre central-Minnesota lake, where a dwindling walleye population has led to a decline in tourism.
Native to Mille Lacs, smallmouth bass were uncommon there as recently as 30 years ago. Prior to 1984 the species never showed up in DNR assessments of the lake's fish populations, according to DNR regional fisheries treaty coordinator Tom Jones. Why smallmouth bass suddenly flourished in Mille Lacs could be due to a number of factors, he says.
Jones points to a warming climate as one potential reason for the increase. "Environmental conditions across the entire Upper Midwest have become more favorable to bass over the last 20 years," he says. "Everywhere across the Midwest, bass populations are going up. But Mille Lacs may have other pieces that make it really perfect—adequate food and a lot of rock reefs for habitat."
During the late 1980s and throughout the 1990s, smallmouth started showing up in DNR assessments more frequently. And anglers were also hooking more of them. In 1999 smallmouth bass enthusiasts and some area resort owners approached the DNR to discuss protecting what they saw as an emerging trophy smallmouth bass fishery. At the time, anglers were allowed to harvest six bass of any size.
In 1999 a DNR fisheries assessment concluded that the lake's smallmouth bass population was small and might be limited by a lack of appropriate spawning habitat. When the DNR presented regulation options to the Mille Lacs Fisheries Input Group, the coalition of fishing guides and area business owners selected a daily limit of one smallmouth over 21 inches. That restrictive limit was in place from 2000 until 2013.
A 2009 DNR assessment found smallmouth bass "in much higher numbers and across a much wider portion of the lake," says Jones. "That's when we found that smallmouth bass in Mille Lacs appeared to grow slower in 2009 than in 1999." As early as 2010, DNR fisheries biologists suggested that some harvest of smallmouth bass might be needed to maintain the potential for growing trophy fish, according to Jones.
Some harvest began to be allowed in 2014. Current regulations went into effect in 2016. They allow four smallmouth bass in possession. All fish between 17 and 21 inches must be immediately released, and only one fish over 21 inches is allowed. Regulations allowing harvest, though criticized by some smallmouth advocates, gained approval from the fisheries input group because they permit anglers to keep some fish during a time when walleye harvest has been restricted or prohibited.
A 20-inch smallmouth bass is generally regarded as a trophy fish, and some anglers who are opposed to harvest believe it takes 20 years to reach that length in Mille Lacs Lake. Contrary to those claims, research has determined that the lake's smallmouth can reach that size by age 8 or 9.
"The truth is, despite the harvest that has been allowed, the population is increasing," says Jones. More investigation is needed to find the right amount of harvest to sustain a trophy bass fishery, he notes. An assessment of spawning smallmouth bass will be conducted this spring, which will provide insight into the distribution of fish of different sizes. The fish will also be aged via a scale sample, which will offer another look at growth rates. Jones hopes a smallmouth bass population estimate can be completed in 2017.
Still, Mille Lacs remains the best place to hook a smallmouth bass that could top the state's 8-pound record from West Battle Lake, which has stood since 1948.
"The potential is definitely there in Mille Lacs," says Jones. "It wouldn't surprise me if someone broke the state record soon, especially with the increased interest in the lake's bass fishing."
Michael A. Kallok, online editor