Naomi Walker loves to be outside, spend time with friendly people, and give back. As both a participant and a mentor in the Department of Natural Resources' Becoming an Outdoors Woman program, she does all these things in abundance. For more than 20 years, BOW has provided a supportive community for Minnesota women as they learn how to hunt, fish, and develop outdoor skills such as knot tying, camp cooking, wilderness survival, and ATV safety.
Article continues below sidebar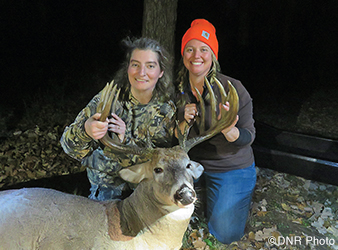 Naomi Walker, left, was mentoring hunter Teresa Head when Head shot this 17-point, 235-pound buck during a hunt in Itasca State Park. They connected through the Becoming an Outdoors Woman program.
Seven years ago, Walker, who had never hunted before, attended a game fair in Anoka and signed up for a mentored hunt sponsored by BOW on land near the Snake River. Although Walker didn't see any deer while hunting, she describes "having a glorious time in the woods seeing chickadees playing and hearing every leaf drop and a squirrel rustling five yards away." One of her mentors invited her to hunt again later in the season. Walker glimpsed two does, and even raised her rifle, but took no shots. Still, she was hooked.
The next fall another mentor invited Walker to attend a BOW steering committee meeting and then to serve on its board. Since then, she has participated in many program workshops and activities. At her first program weekend at Eagle Bluff Environmental Learning Center in Lanesboro, she took classes in shooting a shotgun and creating a butterfly garden. She has also taken classes on orienteering and plant identification, and looks forward to learning how to kayak. Before being part of this group, Walker had "lots of enthusiasm, but not the knowledge or contacts." Now she has found mentors who grew up immersed in the outdoors and freely pass on what they know.
Walker enjoys sharing what she has learned. "I really wanted to get into hunting and didn't know how. And now I want to help alleviate that problem for others," she says. Walker teaches classes on food preservation, raising chickens, and the basics of firearms. She has mentored both the Learn to Hunt Whitetails program as well as all-female deer hunts. Being a mentor has helped Walker gain confidence as a public speaker and develop her ability to track animals and scout land for good habitat.
One of Walker's most rewarding experiences in the program took place last fall, when she mentored Teresa Head in a BOW-sponsored hunt at Itasca State Park. Under Walker's eye, Head, a first-time hunter, shot a 17-point buck, the second-largest deer ever harvested in Hubbard County. Head deeply appreciates the guidance she received from Walker, saying, "It must be hard to see a buck and give it away."
Head, who moved to Duluth from Alaska two years ago, initially did a BOW winter workshop in which she cross-country skied, snowshoed, and tried darkhouse spearing for fish. She didn't know anyone going into the weekend, but by the end had signed up for the fall mentored hunt and begun to cultivate a network of helpful fellow outdoorswomen. Head stays in touch with Walker and other women she met through BOW. In addition, she has found a mentor from the program to teach her how to bowhunt, one of her lifelong dreams.
Walker sees the value of all-female programs, as they offer an encouraging, collaborative social context for women to comfortably learn something new. She notes that BOW's warm, nurturing community leads many participants to continue their friendships after the workshops. Walker knows several women who have found hunting, running, and paddling buddies in the program.
"I want to continue to break down gender stereotypes, especially that hunting is just for men," Walker says. "You don't have to be Rambo or G.I. Jane to get out in the woods."
Pierre MacGillis, freelance writer
---
Wild Rice Renaissance
Centuries ago, prophecies guided the Ojibwe people to migrate west to find the food that grows on the water. Mille Lacs was one of the places they stopped, around A.D. 1750, where the bays and outlet lakes were thick with the wild rice they called manoomin. For millennia before that, the Mdewakanton Dakota harvested wild rice here. Its abundance helped sustain a group of villages around Ogechie Lake, in the heart of what is now Mille Lacs Kathio State Park. By the late 1980s, however, the rice in Ogechie was nearly gone. Now, thanks to a cooperative project by the Mille Lacs Band of Ojibwe and the Minnesota Department of Natural Resources, wild rice is returning, and with it a connection to the park's ancient history.
Article continues below sidebar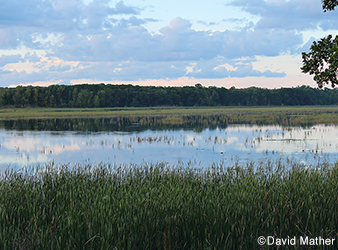 A dam built in the 1930s cause wild rice on Ogechie Lake to decline, but a new outlet structure upstream at Mille Lacs has lowered Ogechie's water level and allowed for a return of this once-abundant wild grain.
The key to Ogechie's wild rice restoration was a modification to Buck Moore Dam at the Rum River outlet of the lake. Built in the drought years of the 1930s to keep water in the lake, the dam ultimately raised water levels too high for wild rice to grow. Recently, rice returned to Lake Onamia—downstream from Ogechie—after the dam there was changed to lower the water and allow old rice grains on the lake bottom to sprout.
Ogechie was trickier, because its dam also controlled the water level of Mille Lacs itself. The Mille Lacs Band of Ojibwe solved that problem by building a new control structure at the outlet of Mille Lacs. Then the old dam was modified, and, as in Onamia, rice emerged on its own.
The projects at Onamia and Ogechie are parts of a restoration initiative that benefits people and wildlife alike, according to Perry Bunting, director of environmental programs for the Mille Lacs Band's Department of Natural Resources. He says that Ogechie's rice "grew in like a green carpet" in a dramatic reappearance before being disrupted by an early summer storm. Harvesting has not been permitted yet, Bunting says, to allow the rice beds to reseed. In the meantime, paddlers benefit from the project because watercraft can now pass over the modified dam between Ogechie and the Rum River without portaging.
The Interpretive Center at Mille Lacs Kathio State Park overlooks Ogechie and is well positioned for observing the lake and wildlife. Park visitors can use high-powered binoculars at the picture window, says park naturalist Erin Fallon, or venture closer to the action: The archaeological sites on the Landmark Trail are great viewing spots. The rice will provide important feeding, resting, and staging areas for waterfowl, Fallon says, along with enhanced habitat for fish, turtles, and mammals such as muskrats.
The outlet lakes of Mille Lacs are the heart of the Kathio National Historic Landmark. One of only 25 in Minnesota, the landmark commemorates the ancestry of the Dakota Nation. It was built on a foundation of wild rice, as seen in archaeological evidence of parching, threshing, and storing.
Years ago, during an autumn archaeological dig at one of the Ogechie village sites on the Landmark Trail, I marveled at the sights and sounds of migrating waterfowl as flocks filled the open water. Now, that same view is punctuated with fuzzy green stalks, some in small clumps, others forming thick beds across portions of the lake. The upper half of Ogechie is filling in with wild rice. In Ogechie Lake, food once again grows on the water, and an ancient cultural landscape has been renewed.
David Mather, freelance writer