Landscaping, lakescaping, woodworking—all for wildlife. Carrol Henderson, who has written books on these endeavors, will do whatever it takes to make room for wild creatures. Since 1977 when he became the first supervisor of the DNR Nongame Wildlife Program, Henderson has been devising and delivering rescue and reintroduction plans for Minnesota's rare and endangered species. Once uncommon bald eagles, eastern bluebirds, river otters, white pelicans, peregrine falcons, and trumpeter swans have become common under his watch.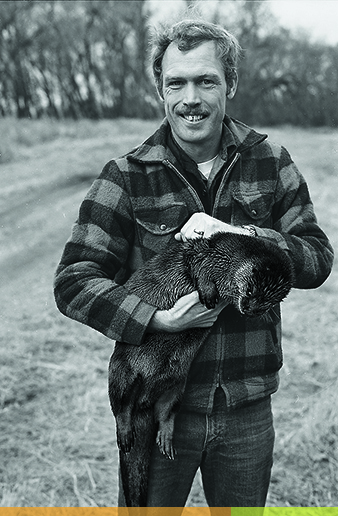 In the early 1980s, among his first DNR projects, Carrol Henderson reintroduced river otters into southwestern Minnesota. Today otters thrive statewide.
This past spring the Garden Club of America honored Henderson with its Frances K. Hutchinson Medal, "awarded to figures of national importance for distinguished service to conservation." He stands in the company of previously awarded conservation luminaries, including Rachel Carson, Stewart Udall, Lady Bird Johnson, Roger Tory Peterson, and Edward O. Wilson.
"That really moved me," Henderson says, "to be put in the same category of people who've been my conservation heroes … Ding Darling, who started the duck stamp back in the 1940s … Walt Disney for his nature series … Sigurd Olson with Minnesota roots … that is very humbling. … You are just trying to make a difference for wildlife, so when you get recognition, it is truly appreciated."
The national nonprofit organization calls Henderson a leader in launching the nongame wildlife checkoff on Minnesota tax forms. Since 1981, state taxpayers have contributed more than $30 million to support projects to benefit native nongame species, such as songbirds and butterflies, frogs and toads, minnows and mussels, snakes and turtles, loons and ospreys.
Ten other states started nongame wildlife programs with Henderson's help. From 1977 through 1988, he and his staff captured 55 bald eagle chicks in northern Minnesota to aid eagle recovery in five other states.
For the success of Minnesota's program, Henderson credits colleagues, collaborators, and volunteers. Among them was Roger Holmes, former director of DNR Fish and Wildlife, who hired him. "He left me with broad discretion to use my common sense and instinct to develop the program," Henderson says.
Henderson has applied his instincts, expertise, and energy to continually move forward with wildlife management, research, and education. He emphasizes "education especially for young people, to create the next generation of conservationists." He's been a driving force for research on threats to wildlife. Findings on lead poisoning in bald eagles led him to promote the use of nontoxic copper ammunition for deer hunting to prevent inadvertent poisoning. Following the 2010 oil spill disaster in the Gulf of Mexico, he arranged for research on the potential impact of contaminants on white pelicans and common loons in Minnesota.
The award announcement notes: "Long before pollinators became a buzzword, Carrol advocated landscape plantings to benefit butterflies, bees, moths, and hummingbirds in … Landscaping for Wildlife." That book and four others he wrote for the DNR have sold more than 250,000 copies and generated more than $300,000 in royalties for the DNR Nongame Wildlife Program.
Biologists from Cuba to the former Soviet Union have used Woodworking for Wildlife to build nest boxes for birds. Henderson has written 12 other wildlife books to inspire conservation at home and abroad. For this magazine, he has told dozens of wildlife stories. In his most recent feature, "The Resilience of Sandhill Cranes," he explained how these nearly lost native birds recovered and now delight Minnesotans.
From wildlife guides to web cameras in eagle nests to wildlife-related workshops, Henderson has created projects that give people a window to the natural world and lift the human spirit.