Construction Aggregate Lease Sales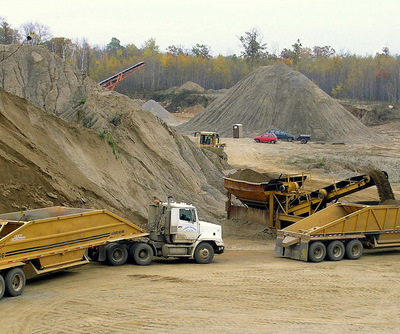 The Department of Natural Resources (DNR) issues leases to mine construction aggregates on School Trust Lands and state-owned lands. Leases are offered to public and private entities for the production of construction aggregates (sand and gravel, crushed stone) or landscape stone. This type of state lease is called an earth materials lease and is required prior to any exploration or mining on state-owned land administered by the DNR.
A state earth materials lease requires payment of a rental along with a payment for all materials removed. The lease may require a minimum annual production requirement. The lease also provides for environmental controls and reclamation or restoration of the site. The lessee also must provide the state with a certificate of insurance by an insurance carrier licensed to do business in Minnesota at the amounts specified in state law.
Earth Material leases are issued upon application or are awarded as part of a public bid sale. At a public bid sale, the highest bidder that meets the bid contract requirements is awarded the lease contract.
Earth materials lease offerings and contact information are provided below. The locations of active and inactive State aggregate leases and potential lease sites are shown on the following map
Map of earth material leases
What are construction aggregates?
If you have questions please contact:
Corrie Floyd, Geologist
DNR - Division of Lands and Minerals
500 Lafayette Road
St. Paul, MN 55746
tel. 651-259-5958
fax 651-259-5939
Corrie.Floyd@state.mn.us
Lease Offering Available - Duluth Sites
Gravel lease opportunity in St. Louis County, MN
This lease is available on a first come first serve basis.
If you are interested in this lease opportunity, required documents, site information, and sample lease contract with exhibits are available here: