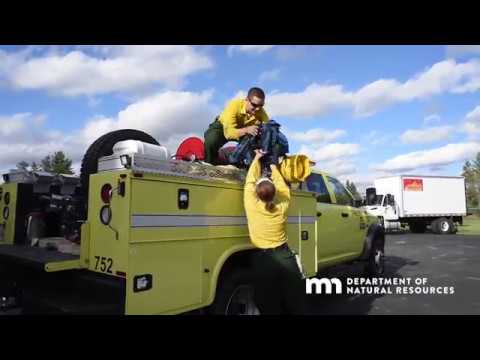 Start Your Career With The Division Of Forestry. Watch video to learn more.
Do you want to work outdoors and help manage Minnesota's trees, woodlands, and forests for the benefit of all Minnesotans? If you do, DNR Forestry wants you to join our team to help manage over 4.2 million acres of forest land across the state to provide jobs, forest products, clean air and water, wildlife habitat, and recreational opportunities. We offer variety, challenge, and opportunity to grow and develop as a forestry professional.
Variety + Challenge = Opportunity
Through a wide variety of year-round work, you will protect and preserve Minnesota's forests and natural resources. In the spring you'll plant trees, conduct prescribed burns, and fight wildfires. In the summer you'll monitor seedling growth, survey plant communities, identify tree insects and diseases, and work with wildlife managers. In the winter you'll monitor logging projects, plan spring planting projects, and snowmobile across frozen ground to remote forested areas.
Forestry Careers with DNR
Click on a video to learn more about the different positions within forestry at the DNR.
| | | | |
| --- | --- | --- | --- |
| Program Forester | Regional Forestry Specialist | Forest Health Specialist | Natural Resource Forestry Specialist |
The tasks of a forester depends on where they work in the state and the season.