| | |
| --- | --- |
| Lake name: White Bear | County: Washington |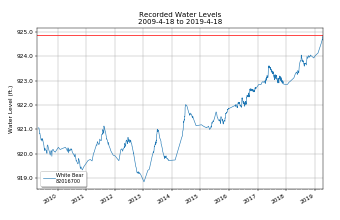 Last 10 years of data, click to enlarge.
Water Level Data
Period of record: 01/01/1924 to 04/08/2019
# of readings: 6819
Highest recorded: 926.7 ft (06/20/1943)
Lowest recorded: 918.84 ft (01/10/2013)
Recorded range: 7.86 ft
Last reading: 924.69 ft (04/08/2019)
Ordinary High Water Level (OHW) elevation: 924.89 ft
Datum: MSL 1912 (ft)
Download lake level data as: [dBase] [ASCII] (If you have trouble try right clicking on the appropriate link and choosing the "Save ... As" option.)
Benchmarks
Elevation: 928.74 ft
Datum: MSL 1912 (ft)
Date Set: 07/01/1994
Location: T30R22S13
Description: Ramsey Co. BM. Paint mark on the southeast corner on concrete slab under pipe at east side of pumphouse at the northeast corner of Matoska Park public access boat ramp and Manitou Island Road. As per 3/30/94 DNR report, subtract 0.19' from MSL 1912/County datum for NGVD 1929 datum. As per Ramsey County 2/2/09 survey of RCVM #9208, "MSL 1912 datum to NAVD 1988 datum conversion factor = 0.46 ft."
Elevation: 926.55 ft
Datum: MSL 1912 (ft)
Date Set: 08/09/2016
Location: T30R22S13
Description: Faded paint mark on the Southeast corner on the concrete slab for DNR lake gage house on North side of Manitou Island road, 25' Northwest of Manitou Island access bridge, and Southeast of Matoska Park water access site, 4810 Lake Ave N, White Bear Lake.