Lawson Gerdes,
Northern Coordinator,
Plant Ecologist/
Botanist
Late Summer, 2011 - Border Lakes Subsection. "Late summer field surveys in the Kawishiwi River-Gabbro-Bald Eagle area continue to demonstrate how few examples of Red Pine-White Pine Woodland (FDn32a) occur in the Gabbro Lake Bedrock LTA of north- central Lake County. We expected to find small patches of these bedrock-dominated woodlands on ridge tops and perched above the shores of larger lakes and rivers in this area, but were surprised how few examples occurred away from lakes. Most of the occurrences of FDn32a we encountered have developed at campsites that are heavily impacted by wilderness visitors. A rare occurrence of state imperiled (S2), Red Pine Woodland (FDn12b) community was documented on a small island in Gabbro Lake. Inland Lake Sand/Gravel/Cobble Shore (LKi32) surrounds the island, and was well-represented throughout, with many high quality examples along the mainland shores in this area.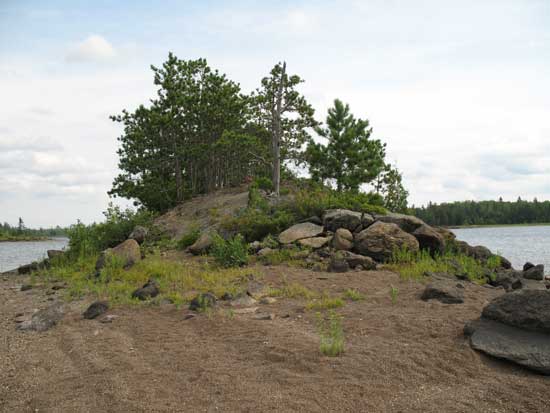 Attached to floating branches in the deep, steep-sided channel where August Creek flows into Little Gabbro Lake from outside the wilderness, golden-colored Bryozoan colonies (cf. Pectinatella magnifica) appear to glow from within. Each colony is made up of many, tiny animals called "zooids" covered by a protective matrix. Bryozoans feed by filtering tiny algae and protozoa through a crown of tentacles. Colonies grow by budding from the adult zooids. New colonies establish from a free-swimming, microscopic larval stage or by growth of dormant, spore-like "statoblasts". Although P. magnifica is found in freshwater lakes and rivers in North America, and northeastern Minnesota is within the native range for the species in the U.S. (USGS, Nature Serve), neither I, nor my field assistant (Ann Schwaller, USFS-SNF) had ever seen it.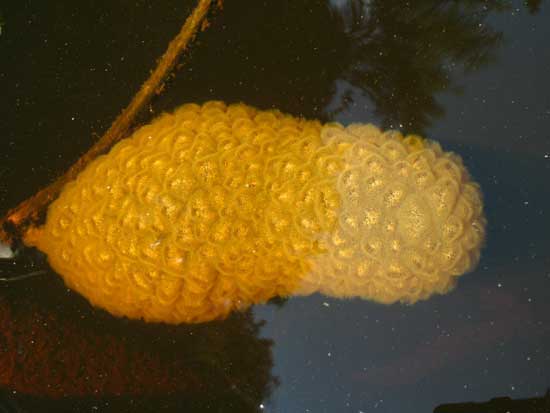 Summer drought conditions in NE MN meant that low water levels prevailed this field season. This not only made water travel tricky, but exposed large areas of high quality Inland Lake Sand/Gravel/Cobble Shore (LKi32) and provided the opportunity to experience an uncommon occurrence in the Border Lakes; an "organic beach". This example, on Bald Eagle Lake, is a deep deposit of tiny fragments of northern wild rice (Zizania aquatica) and other aquatic emergent vegetation and likely supported by root systems of the adjacent Northern Shrub Shore Fen (OPn81). Although a moose found it possible to navigate across, the quicksand-like behavior of the saturated beach substrate caused us to scramble for the more solid, upper portions as we started inland for our day of terrestrial surveys."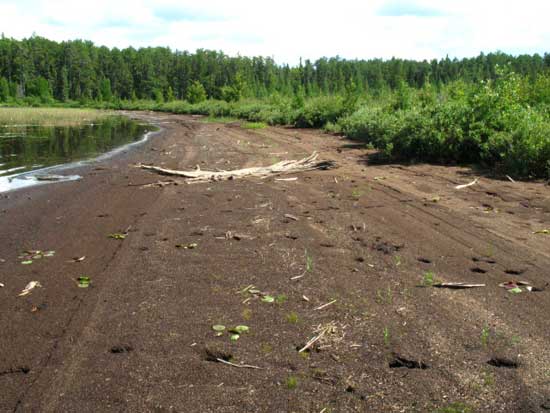 ---
Lynden Gerdes,
Botanist
"My 2011 botanical fieldwork was conducted in the Border Lakes subsection of Lake County. This landscape is all within the Rainy River Headwaters Watershed, where waters ultimately flow to Hudson's Bay.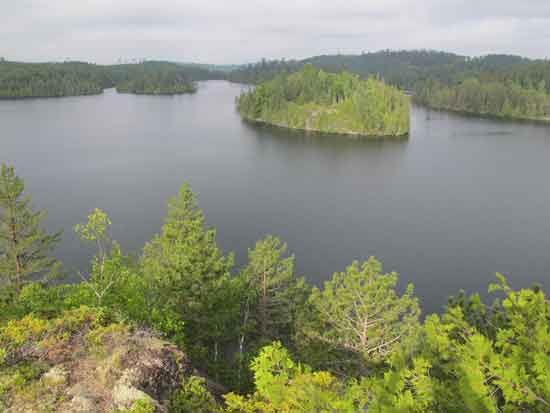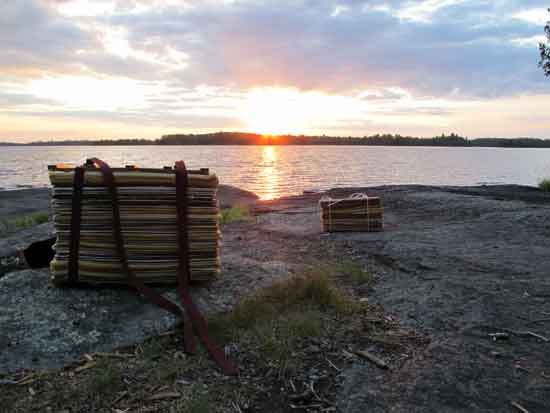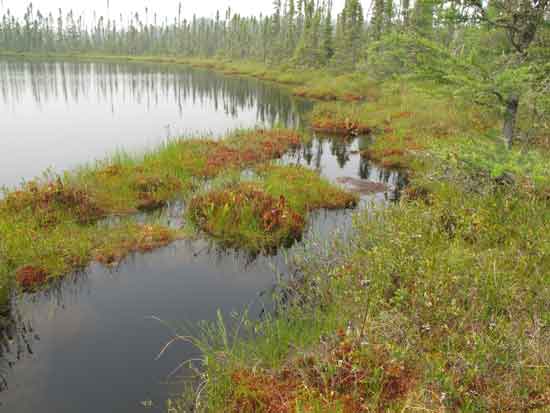 The first extended trip of the season was a BWCAW canoe trip with Joe Walewski to the far northeast portion of Lake County. Several of the more interesting botanical observations we made during this adventure included: maidenhair spleenwort (Asplenium trichomanes subsp. trichomanes), Oregon Woodsia (Woodsia oregana), small flowered woodrush (Luzula parviflora), dragon's mouth (Arethusa bulbosa) and soapberry (Shepherdia canadensis).
A second wilderness trip was taken to the Perent River–Isabella Lake area with Welby Smith. We recorded assorted locations of lance leaved violet (Viola lanceolata), autumn fimbristylis (Fimbristylis autumnalis), sooty colored beak rush (Rhynchospora fusca), American shore plantain (Littorella americana), and field sedge (Carex conoidea or C. katahdinensis). Our field work was conducted in August about a month prior to the Pagami Creek fire which burned throughout much of this area. It will be interesting to return in future years to watch the regrowth of the forest and also try to determine what influence the fire event may have on our recent observations.
Numerous day trips rounded out the remaining field season. Much of this work was conducted in the southern portion of the Gabbro Lake Bedrock Complex LTA. One of the more interesting aquatic plants documented was the small white water lily (Nymphaea leibergii). This species was observed from the bow of our canoe by Norma Malinowksi. The population is likely one of the more robust populations of this species known to date, with 100s of plants. Wetland species, including yellow eyed grass (Xyris montana), sooty colored beak rush, and small green wood orchid (Platanthera clavellata) were also documented from several poor fens.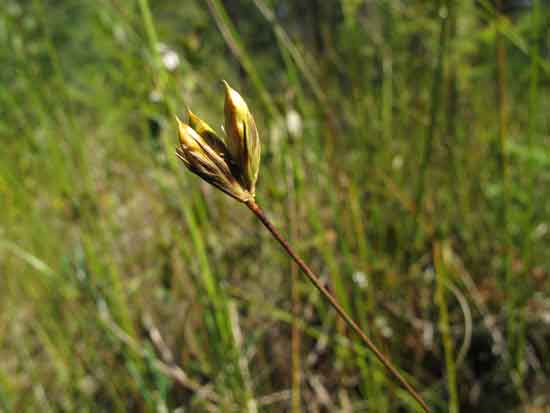 Bog rush (Juncus stygius) was collected from a small, isolated poor fen. This species is more typically found near flarks, hollows, pools, or floating sphagnum mats in wetter, richer fens. Although we experienced dry conditions later in the field season, this particular fen did not appear to be pooled or ponded although it is likely partially inundated early in the season or in wet conditions.
The Greater Harris Lake area provided several surprises. This landscape well represents the rugged nature of the Border Lakes. Numerous exposures of bedrock outcrop, woodlands, rock walls and scattered old pine characterize this area. While botanizing one cliff feature, I sensed movement and a shadow from upslope. A fledgling turkey vulture (Cathartes aura), not quite able to fly had just descended to a lower mossy shelf. As I pulled out my camera, the young bird vomited and with dripping beak kept a watchful eye on my whereabouts. Turkey vultures are quite secretive birds and typically nest in isolated, rugged landscapes. I've had the chance to explore many cliffs and rocky slopes but this was my first encounter with a young turkey vulture.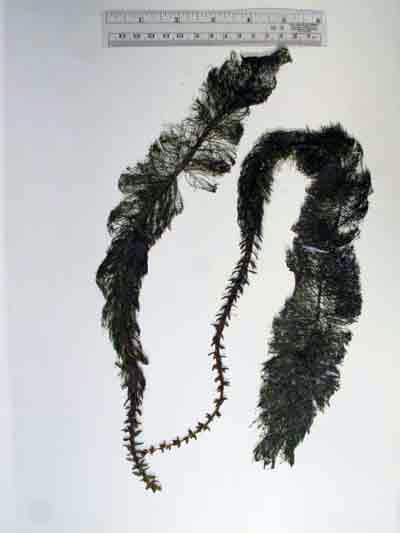 Broadleaf water-milfoil (Myriophyllum heterophyllum) was documented for the first time in the Harris Lake area of Lake County. This discovery represents only the third known location of this species in Minnesota. It occurs approximately 16 miles distant from the other two known locations in St. Louis County. It is with much anticipation that our ongoing survey efforts will continue to discover a diversity of aquatic and terrestrial plant species across the Rainy River Headwaters Watershed.
Alpine woodsia (Woodsia alpina) was documented from a 3 meter tall bedrock wall in the Stony River area. To date, this fern has most often been observed growing in cracks and shelves of large wet - mesic cliffs and gorge features. Thus, several recent discoveries found on smaller, more isolated rock walls provide extra incentive to look at each small bedrock exposure with finer scrutiny for the suite of ferns and club mosses (Huperzia spp.) that occur in these habitats.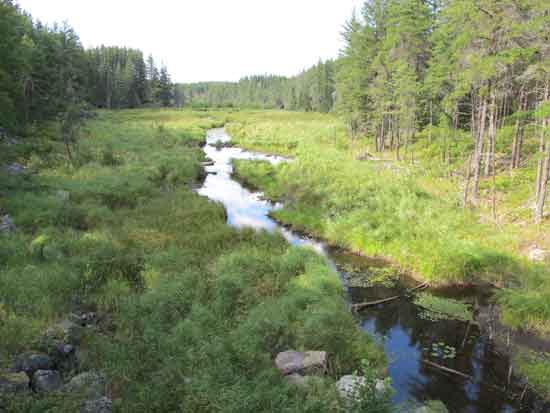 Ditch stonecrop (Penthorum sedoides) was also vouchered from along the shores of Stony River. This species is known to be scattered across much of Minnesota; however this is apparently the first documentation of the species in Lake County.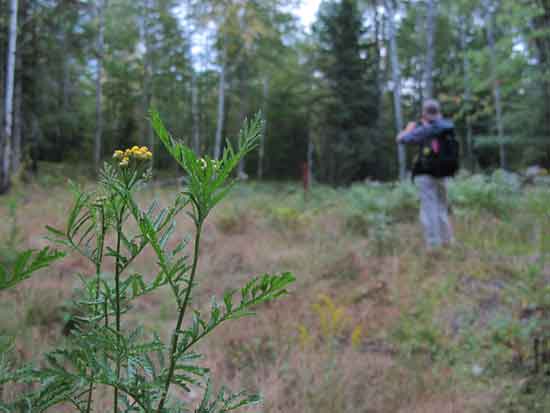 But all is not bliss. We came across assorted locations made of Canada thistle (Cirsium arvense), spotted knapweed (Centaurea stoebe subsp. micranthos), purple loosestrife (Lythrum salicaria), Tansey (Tanecetum vulgare) and other non-native / invasive species. Most of the weedy upland species become established when soils are disturbed by management activities. Seeds arrive by equipment, gravel sources, or wind, or may be present in the seed bank. Under these disturbed conditions and left unchecked, they spread along existing and new areas of disturbance. We documented Queen Anne's lace (Daucus carota), an invasive species, from the Filson Creek watershed, apparently for the first time in Lake County. Non-native / invasive species typically out- compete native species and degrade native plant communities. As exploration and an array of management activities move deeper and more frequently into our northern landscapes, we are all too often leaving a trail of non-native species behind."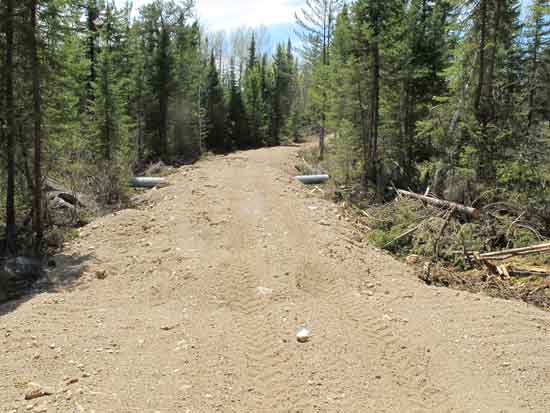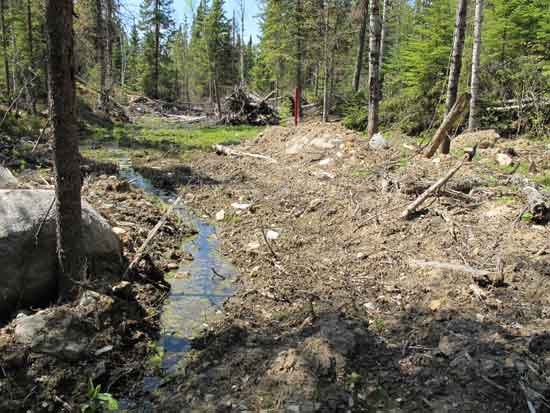 ---
Jason Johnson,
Botanist/
Plant Ecologist
September 27: "On one of the last field days in Clearwater County, I came across some strange sounds in the woods. My objective that day was to survey a chain of wetlands and lakes along a narrow valley near Itasca State Park. As I walked through the woods towards the largest lake the sounds became louder and more numerous, until finally their origin was revealed. Ten pairs of Trumpeter Swans."
"I also came across a specimen of Chaga, a fungus that parasitizes birch trees"
---
Erika
Rowe,
Plant Ecologist/
Botanist
September 20 (Peatland Surveys in June and August): "Due to the extreme difficulty in accessing much of northern Beltrami County and adjacent counties, a few days doing surveys with a helicopter is always welcome. Much of northern Beltrami and parts of nearby Lake of the Woods and Koochiching counties are remote and covered by hundreds of thousands of acres of peatland, most of which have no roads for access. Even if you could walk in from a nearby road, walking is very slow and tiresome and soon enough you'll need to cross an immense ditch if you haven't already."
---
Erika
Rowe,
Plant Ecologist/
Botanist
September 10: "As a nice end cap to the field season, I encountered a stunning granite rock outcrop in extreme southeastern Lake of the Woods County, not far from the Beltrami Co. line. It was about 40 acres in size – an absolute shock to stumble upon. However, I confess that I suspected there might be some bedrock making an appearance at this site, but not to the extent that I found it. I first saw this small island mapped as an outcrop on an old geologic map and aerial photos showed a very thin canopy of conifers. So I suspected that it was either recently partially harvested or there was bedrock, a rare thing for this area (although there are occasional outcrops in Zippel Bay State Park to the north and a couple small ones to the west), so it felt strange to be walking here on rock with jack pines scattered about, when just to the south is hundreds of thousands of acres of peatland. "
---
Dan Wovcha,
Plant Ecologist
July 30: "During the last week of July, I helped Mike Lee with rare plant and plant community surveys in the Wood Lake area of the Boundary Waters Canoe Area Wilderness."
---
Carmen Converse,
MCBS Supervisor
July 21: MBS botanical contractors Malcolm and Rosemary MacFarlane spent 16 days in June searching for rare Botrychium species in Koochiching, Lake of the Woods, and Roseau counties. They made 114 collections, documenting nine different Botrychiums, including five species on Minnesota's endangered species list: prairie moonwort (B. campestre), common moonwort (B. lunaria), Mingan moonwort (B. minganense), pale moonwort (B. pallidum), and least moonwort. The Botrychium they encountered most frequently was a variety of B. simplex var. simplex. Less frequent were common moonwort, Mingan moonwort, prairie moonwort, and an uncommon variety of least moonwort, B. simplex var. tenebrosum, which will likely soon be recognized as a distinct species. Other noteworthy collections made by the MacFarlanes were Michigan moonwort (B. michiganense), and what appear to be upswept moonwort (B. ascendens) and spatulate moonwort (B. spathulatum). These last three species are not on Minnesota's endangered species list but are rare and are being tracked by the DNR to gain more information about their frequency and distribution.
Chel Anderson,
Botanist
Plant Ecologist
June 30: "Yesterday, wrapped-up the second 2011 field work trip in the Boundary Waters Wilderness with field assistant Virginia Danfelt. Work during the most recent trip was concentrated in an area accessed via routes from Kawishiwi Lake: north along the Kawishiwi River drainage beyond Malberg Lake, as well as east along the Louse River. High-quality native plant communities including woodlands, transitioning old forests and aquatic habitats were daily fare. American shore-plantain (Littorella uniflora), twig-rush (Cladium mariscoides) (the inflorescence just emerging), and shorelines dotted with the bright white blooms of lance-leaved violets (Viola lanceolata) lured us on come rain, come sun and even hail. I advise wearing hearing protection while portaging a canoe in the hail.
Despite the constant, abundant dipteran throng accompanying us nearly everywhere (no sign of them during the hail), there were many sublime moments: a still, misty, early morning lake encounter with a calf moose shadowing its mother as they swam the crossing from an island to the mainland on Polly Lake. Another early morning, clear sky, travelling towards a calm bay. Its distant surface strangely textured. As we drew closer, the stippling is slowly revealed as many thousands of newly emerged, delicate, pale green subimago mayflies. June - lush, fecund, glorious, marvelous - June. A feast for all the senses!"
---
Lawson Gerdes,
Northern Coordinator,
Plant Ecologist/
Botanist
June 29: "I just returned from surveying the Isabella River watershed and tributaries in the Boundary Waters Canoe Area Wilderness in Lake County. With its expansive, open Acid Peatland (1.5mb) and Open Rich Peatland (1.5mb) communities (I've never seen bog birch [Betula pumila] so tall and so dense), the system is a striking example of ecosystem services in water storage and filtering capacity. Needless to say, water levels are way up after a week+ of monsoon rains!
Overall, the area is a heterogeneous, yet fairly balanced, complex of open and forested Acid and Open Rich Peatland, Northern Poor Dry-Mesic Mixed Woodland (FDn32) (781kb), and Northern Mesic Mixed Forest (FDn43) (938kb) communities. No rock faces or cliffs and not even much for rock outcrops. With high water levels and cool weather, phenology was somewhat set back.
Even with portions of the area having a relatively recent high-grade logging history, the affected communities we visited are still very high quality, with decent composition, structure, regeneration, micro-topography, etc. A few of the old logging roads and landings that I remember from working in the area 30 years ago are reforesting remarkably well (Oh-oh...I'm talking like an old codger now).
No unusual rare plant finds, but what an incredible year for orchids it's shaping up to be! I saw large populations of Hooker's orchid (Platanthera hookeri) and tesselated rattlesnake plantain (Goodyera tesselata) in flower. I was also fortunate to observe a very large, flowering population of arctic raspberry (Rubus arcticus var. acaulis) during its brief anthesis (made even briefer by the incessant rains)."
Dr. Emily Peters, a volunteer field assistant, in a Black Spruce-Feathermoss Woodland (FDn32c2) that was sampled in the Isabella River watershed in June, 2011.
---
Jason Johnson,
Botanist/
Plant Ecologist
June 28: "I was joined this week by a volunteer photographer from Haugesund, Norway, Bjørn Olav Østenstad. Bjørn is an archivist for the Norwegian Maritime Directorate. His background is in natural resource economics and photography. Like Minnesota, Norway uses an ecological classification system to identify biodiversity legacies when managing forest lands, and Bjørn is interested in seeing our Native Plant Community Classification system in action. Although there was a lot of rain, we managed to cover a lot of ground. We surveyed both Mesic and Rich Mesic Hardwood Forests (MHn35 and MHn47) in the west-central part of Clearwater County."
---
Derek Anderson,
Plant Ecologist/
Botanist
June 28: Volunteers help capture the emergence and growth of the Western prairie fringed orchid in both northwestern and southwestern Minnesota. Images collected daily have been converted into a time lapse movie in which you may watch two months of growth in about a minute's time. Photos will be added throughout the growing season.
---
Mike Lee,
Plant Ecologist/
Botanist
June 24: Mike Lee recently learned from international bryophyte expert Jan Janssens that three mosses he collected in Cook County in the Boundary Waters Canoe Area Wilderness are new species records for Minnesota. Mike had collected the mosses during field surveys the past two summers and sent specimens to Janssens for identification. The mosses are the aquatic Fontinalis welchiana, which was attached to boulders in shallow water and stranded above the water line along the shores of Finn and State lakes; Philonotis yezoana, collected from dripping groundwater seepage zones on a southeast-facing granitic cliff at Cuckoo Lake; and Tayloria serrata, which was growing on a pile of moose dung in a poor black spruce swamp near Carl Lake. Two other species of "dung mosses," including the very rare Splachnum rubrum, were also recorded on moose dung in scattered locations in the BWCAW in Cook County. Welby Smith, Dan Wovcha, Scott Milburn, and Mark Hauck were each a part of one of the state record collections. Other staff assisting Mike the past two years in the BWCAW included Lynden Gerdes, Bruce Carlson, Jason Johnson, Norm Aaseng, and Kurt Rusterholz.
---
Kyle Johnson,
Butterfly and Moth
Specialist
June 20: Kyle Johnson has been in northern Minnesota again this year searching for rare moths and butterflies and sent in this report last week. "Have had decent luck so far, despite not-so-great weather. 'Holy Grail' (the Taiga Alpine, a rare butterfly) is apparently absent from Tomahawk Trail and Echo Trail in odd-numbered years. Did find new locations in the Spruce Lake Peatland area in Lake County on Friday, though, and a respectable number of deer flies."
---
Erika
Rowe,
Plant Ecologist/
Botanist
June 20: "First outings this Spring-Summer have been intermittent, but got to spend 3 days near Itasca State Park with Minnesota's moss expert, Jan Janssens, learning about how to use the key he's developed for MN's noteworthy mosses and liverworts. The first day was spent looking at mosses in a rich, forested swamp with interesting iron spring upwellings (Iron Springs Bog SNA) and the second day was spent looking at mosses that are typical of calcareous fens, a rare and unique plant community in MN.
We also spent a day catching a fleeting glimpse of spring ephemeral wildflowers on Red Lake Reservation land with some of their natural resources staff. Some plant communities on their land are very atypical for such a northerly location, such as having hackberry trees in abundance in the canopy and the spring ephemeral, Dutchman's breeches on the ground. Most likely the two large lakes, upper and lower Red Lake, are creating a microhabitat for such communities to persist."
---
Janeen Ruby,
Plant Ecologist
June 15: "In mid-June I did some inventory work in Murray County, visiting a 120-acre pasture on private land that had not been previously surveyed by MCBS. I went there looking for looking for remnant prairie vegetation, which was scarce. However, the low ground in the pasture turned out to be a high quality wet meadow community. Since it was early in the season, the sedges were still in fruit and I made a number of plant collections. Nine specimens from this site were contributed to the University of Minnesota Bell Herbarium as county records. A county record is the first specimen-based documentation of a species in a particular county."
---
Jason Johnson,
Botanist/
Plant Ecologist
While conducting field surveys on the Red Lake Reservation Jason Johnson and Mike Lee found over twenty-five Ram's-head lady's-slipper (Cypripedium arietinum). The Ram's-heads were found along a nearly one mile survey transect that traversed through cedar, tamarack and black spruce forest. Also in flower and found on the transect were moccasin flower (Cypripedium acaule) and arctic blackberry (Rubus arcticus). The following day, a population of over 100 specimens of dragon's mouth (Arethusa bulbosa) were surveyed in a tamarack dominated rich fen in central Clearwater County. The dragon's mouths were growing on hummocks of Sphagnum and often amongst Hudson bay bulrush (Trichophorum alpinum).
---
Dan Wovcha,
Plant Ecologist
In preparation for the upcoming field season, Minnesota Biological Survey (MBS) staff attended a wilderness first-aid and survival training course May 25-27 at the Finland Community Center in northeastern Minnesota. The two and one-half-day course, taught by instructors with Customized Safety Training, covered topics ranging from wound dressing and emergency evacuation, to hypothermia, heat stroke, drowning, adult CPR, and essential items to carry in a field pack. MBS staff members often work in remote locations, including the Boundary Waters Canoe Area Wilderness and the northern peatlands, heightening the importance of basic knowledge in self-rescue and how to assist others in the event of an accident or sudden illness. Staff members have begun carrying satellite-based messaging and locating devices in the field, and instructors highlighted the importance of coordinating with local search-and-rescue personnel before beginning field work in an area.
---
Carol Hall,
Herpetologist
On April 12, Carol Hall found Gophersnakes (Bullsnakes) basking under the cover of prairie grass, not far from their winter burrows.
---
Derek Anderson,
Plant Ecologist/
Botanist
Western prairie fringed orchid monitoring this season will be incorporating a new tool to document the phonology of this rare prairie plant. Hourly, cameras will be capturing an image of individual plants at select locations (during daylight hours), from first emergence in April until the plants set seed late in the summer.
---
Carol Hall,
Herpetologist
Carol Hall recently received an email from Julie of the Twin Cities concerning a cluster of Common garter snakes found in the branches of a small shrub. Julie said, "I have attached a picture taken on 4/9/2011 in a bush outside my friend's house. I suspect the snakes just 'woke up' and made their way outside as this was our first 'warm day' of the spring. Why the big clump? Are they mating? I am just curious and I figured that you guys would know. Do you think the snakes just crawled out from under the foundation of my friend's house? That thought kind of freaked her out!" Carol's reply: "Very cool photo! That is what is referred to as a 'mating ball.' It is not uncommon for this to occur outside a garter snake overwintering site. I have had several people report seeing this, but I have never seen it myself. Before the snakes disperse from their winter den (and one another) they take advantage of the close proximity and find a mate (or several!). There have been some interesting studies done on the large mating balls that occur each spring in Canada (Narcisse, Manitoba). It's hard to say where the snakes overwintered, they can't tolerate freezing so they may have been in a burrow below the frost line, and not actually in the house. Chances are good that they will return in the fall."
---
Carol Hall,
Herpetologist
In mid-March while tracking a Wood Turtle at an overwintering site in Dodge County, Carol Hall made this short movie (below) of winter stoneflies moving from icy stream water (1ºC) onto the edge of a snowy ice sheet. Winter stonefly nymphs are aquatic, living under rocks on stream bottoms and feeding on plant material. They emerge from the water as adults in early to late winter and are often seen scurrying about on the snow on sunny days, in search of mates. The adults appear to survive freezing temperatures in protected air pockets beneath ice and snow and also apparently can cool to temperatures below freezing without crystallization of body fluids.
---