Using wood for energy is a way to support local economies and forest management.
DNR received a $250,000 grant from the U.S. Department of Agriculture to enhance the use of renewable wood energy systems throughout the state.
The three-year grant will help open new markets for Minnesota's forest resources, promote economic vitality, and use renewable energy while reducing overall energy costs.
The primary objective is to identify a number of commercial and institutional buildings that now use fuel oil and propane for energy and replace those systems with innovative wood energy systems.
The DNR, in partnership with 22 private, state and federal organizations will use the grant to start the initial work that will hopefully result in the installation of wood energy systems in facilities not connected to natural gas grids.
The grant will enhance the work of the Statewide Wood Energy Team, whose members will work collaboratively to identify and evaluate wood energy systems for 15 to 20 commercial and institutional buildings such as community centers and nursing homes. This core team will also work to complete advanced engineering and financial analysis for six to 10 of those facilities.
The $250,000 grant is part of $1.1 million in grant funds the U.S. Agriculture Department awarded to five organizations across the nation to form statewide teams to stimulate development of wood energy projects.
Interested in Learning More
The Statewide Wood Energy Team is here to help Minnesota facilities and businesses move toward and realize the opportunity to cut energy costs, support local forest economies and advance clean energy development. We are gearing up to help 20 sites a year with preliminary evaluations. The State Wood Energy Team is a strong network of public and private partners that can help with a range of project needs. More information
Explore the Community Biomass Handbook and Wood Energy Financial App at woodenergy.umn.edu.
Webinar-Heating Poultry Barns with Wood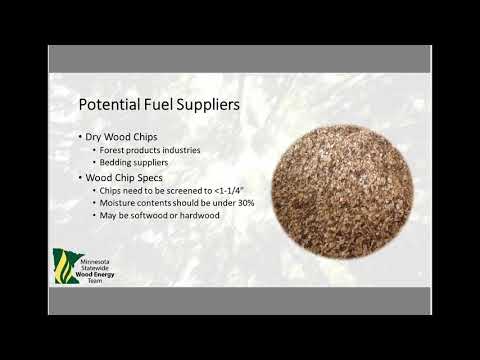 Heating Poultry Barns with Wood
Minnesota State Wood Energy Team presents a webinar on opportunities for heating poultry barns with wood. The webinar covers why a farm or any facility should look at biomass, what are the basics for biomass heath systems and its components, how will a biomass system apply to a poultry farm and specifically a system that would service multiple barns. Ending with a look at the economics of owning and operating a biomass system and other benefits a biomass system might provide to a poultry farm.
More Resources
New SWET Resources Available
MN SWET announces a new type of facility assistance for those searching to switch from propane or fuel oil to wood energy. The MN SWET team will obtain a single engineering firm on retainer for the remainder of the cooperative agreement (through December 2016). The engineering firm will be available to provide complimentary assistance to facilities needing to undergo an intermediate feasibility analysis. MN SWET believes this approach will allow it to serve the needs of a far greater number of facilities that are smaller in size and that require additional information before evaluating specific wood chip, pellet, cordwood or flex fuel options.
Minnesota Statewide Wood Energy Core Team:
Kristen Bergstrand, Grant Manager, Biomass Consultant, Minnesota Department of Natural Resources
Mark Lindquist, Biofuel Program Manager, Minnesota Department of Natural Resources
Brian Brashaw, Director, University of Minnesota Duluth, Natural Resources Research Institute
Dennis Becker, Associate Professor, University of Minnesota
Lew McCreery, Biomass Coordinator, U.S. Forest Service, Northeastern Area State and Private Forestry
For more information, contact:

Kristen Bergstrand
Utilization and Marketing Coordinator
483 Peterson Rd.
Grand Rapids, MN, 55744
Phone: 218-322-2511
[email protected]
This program is funded in whole or in part through a cooperative agreement with the U.S. Forest Service. USDA is an equal opportunity provider and employer. The information contained herein creates no warranty either express or implied. The USDA Forest Service, its officers, employees, and project partners assume no liability for its contents or use thereof. Use of this information is at the sole discretion of the user.