Search for hidden plant and animal superpowers!
Step 1: Pick up a booklet at a Minnesota state park on the map below.
Step 2: Complete five or six booklet activities to earn six points.
Step 3: Bring your booklet to a state park ranger station or visitor center to collect your Junior Ranger patch.
Step 4: Re-use the booklet as a coloring book.
Kids
Adventure awaits! Explore Minnesota state parks for plant and animal adaptations that are like superpowers. Adaptations help plants and animals get food, make a home, escape danger and more!
Grownups
The activities in this booklet are designed for ages six to ten, but anyone is welcome to participate. Some activities have you exploring on the page and others get you out into park habitats or onto park trails. You and your child choose which activities to complete to earn points. You'll need six activity points to get a patch. Complete the activities in a single day or over a few park visits.
For kids to complete the program and get their free Junior Ranger patch, you will need to visit a Minnesota state park. If you are making a special trip to a park to receive your patch, we recommend calling the park prior to your visit to make sure that staff will be available.
Both the booklet and the patch are free. We do not mail out booklets, but you can print your own. The front and back cover are full color, so be sure set your print properties to save ink.
Contact Jenni Webster, 651-539-4504 if you have questions about the program.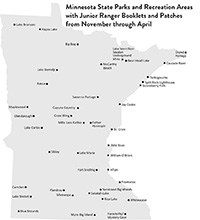 Enlargeable map of parks with
booklets and patches