Download the full Enforcement Division Strategic Plan
Overview
Minnesota's Conservation Officers—once called Game Wardens—have been serving the public since 1887, constantly adapting to meet the changing needs of Minnesota's people and natural resources. The Minnesota Department of Natural Resources hires and trains the most dedicated officers and support staff so that the public can trust in our commitment to outstanding service to citizens, high-quality outdoor safety and ethics training, and protection of Minnesota's natural resources.
Trends
This strategic plan lays out the ways in which we will address three emerging trends in natural resource management and outdoor recreation:
Changing face of Minnesotans and their outdoor pursuits,
Increasing environmental enforcement needs, and
Meeting the challenge of the retirements of about one-third of the Enforcement Division's licensed workforce over the next five years.
Goals and Strategies
Goal 1: Natural Resources Conservation
We deliver high-quality conservation law enforcement to conserve and enhance Minnesota's waters, natural lands, and diverse fish and wildlife habits and populations.
Strategies
To meet our goal, we will focus on:
Enforce Laws and Regulations. Ensure the long-term sustainability of Minnesota's natural resources through the enforcement of natural resources laws and regulations.
Natural Resource Protection. Broaden enforcement activities to focus on protection of Minnesota's natural resources in high-value areas (e.g., groundwater appropriation, wetlands conservation, invasive species management, solid waste, pollution violations).
Voluntary Compliance. Promote voluntary compliance with rules and regulations by communicating their purpose and ensuring they are easy to understand and follow.
Goal 2: Outdoor Recreation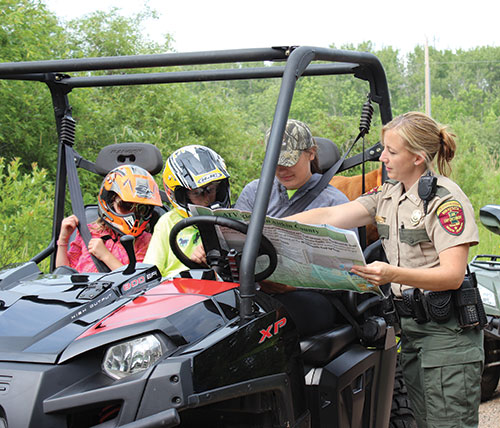 We enrich outdoor recreation experiences by providing high-quality safety education and outdoor ethics programs, building partnerships with communities, and creating positive public interactions.
Strategies
To meet our goal we will focus on:
Safety Education Programs. Provide high-quality, easily accessible outdoor education programs that lead to safe and ethical outdoor recreationists.
Community Presence. Build on our community presence to increase the effectiveness of the Division's critical work.
Personal Interaction. Promote safe and ethical recreation participation through positive one-on-one public interactions.
Goal 3: Natural Resources Economy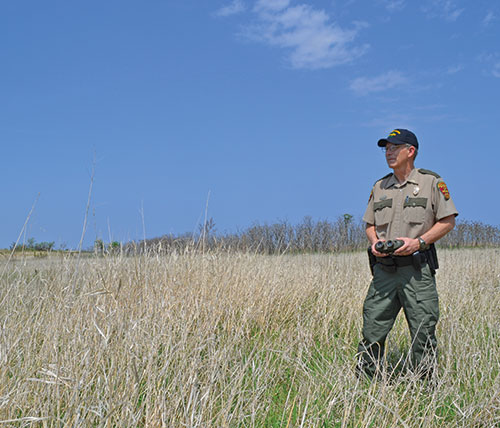 We support strong and sustainable job markets, economies, and communities by upholding conservation laws and regulations, supporting a safe working environment for fellow DNR staff, and providing peace officer services to all citizens.
Strategies
To meet our goal we will focus on:
Regulatory Services. Support the sustainable use of Minnesota's natural resources through regulation, inspection, and enforcement of Minnesota's commercial natural resource laws.
Employee Safety. Support a safe environment at department-sponsored events and facilities for DNR employees and citizens.
Emergency Response. Respond to natural disasters, public safety emergencies, and recreation-related emergencies.
Goal 4: Organizational Excellence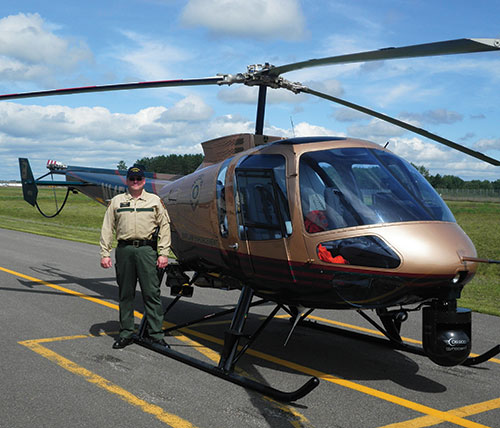 We are committed to strengthening the Enforcement Division's organizational excellence through investments in our people and the technology we use to ensure quality service.
Strategies
To meet our goal we will focus on:
Hire Staff. Strengthen the Division's workforce through an innovative hiring process that attracts and recruits diverse, passionate, and qualified individuals.
Serve all Minnesota. Explore new models for the Division's organizational structure to ensure consistent staff coverage and high-quality service delivery throughout Minnesota.
Work Environment. Provide a safe and fulfilling work environment.
Technology. Use technology to optimize the Division's business processes.